Sydney II Memorial
HMAS Sydney Search Pty Ltd as Trustee for the Finding Sydney Foundation and the Naval Association of Australia wish to permanently commemorate the crew of HMAS Sydney (II), by the establishment of a web based 'Virtual Memorial to enable families to contribute their stories about the men they lost so tragically on the 19th November 1941.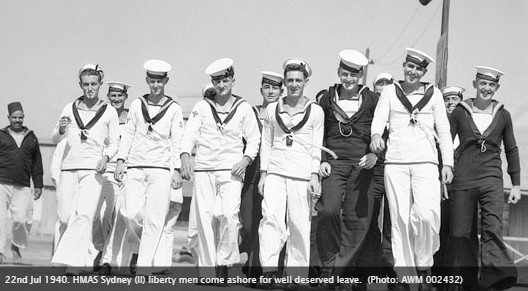 The photo above was taken on 22nd July, 1940 — showing liberty men from HMAS SYDNEY II coming ashore for well deserved leave. (Source: Australian War Memorial 002432)
The Naval Association of Australia owns and manages the Virtual Memorial at www.sydney-memorial.com into perpetuity and invites families and friends to freely submit content for publishing.
WEM