Welcome to Naval Association of Australia
We seek to provide an active and rich future that requires determined members.
Being a member sustains the legacy of past service and sacrifice.
 
The NAA pursue five objectives that underpin our mission:
Care (welfare) for the diverse and crucial support of Navy and ex-Navy men and women,
Commemoration by maintaining the legacy of past service and sacrifice.
Cadets (ANC) by assisting youths to become better citizens through support to the ANC.
Camaraderie to meet and socialise with like-minded Navy and ex-Navy men and women.

Community

(Engagement) How we interact with and support our local communities.
Our aim is to be a dynamic and contemporary organisation supporting the Navy fraternity in a wide range of different ways with Mateship at the core of our ethos.
The Naval Association of Australia (NAA) was established in 1920.   The NAA is the only national organisation with the sole purpose of looking after the interests of serving Navy and ex-Navy men and women.   We believe that
Once Navy, Always Navy
Every member is important to the NAA, the benefit to an individual may not be obvious, however, you will give Voice to Navy in the wider community.  The five objectives underpinning our values point to the significance of membership.  Compensation, rehabilitation and wellbeing entitlements provided to Navy and ex-Navy men and women today is the result of decades of dedicated work by NAA members.
The NAA is responsible for the HMAS Sydney II Virtual Memorial Website.
Keep an eye on the Notice Board for important information
---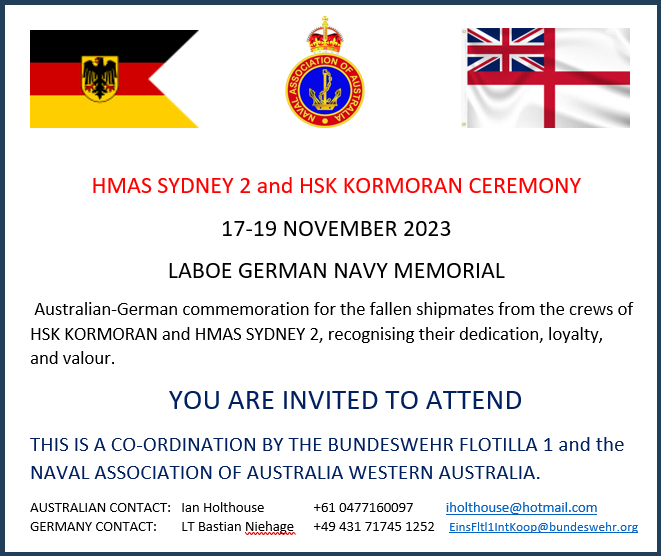 Hello Everyone,
A Commemoration Ceremony for HMAS SYDNEY 2 and HSK KORMORAN will be held at the Laboe Navy Memorial in Germany on the 17-19 NOVEMBER 2023.  Laboe is a village just 19 Kms north of Kiel, 23 minutes by bus.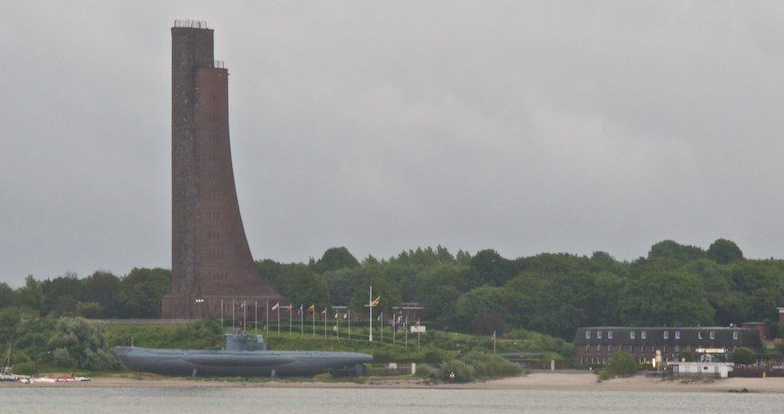 The Laboe Naval Memorial Naval Memorial is a sweeping brick monolith that is dedicated to those fallen in the battles of World War I and II, but also on the grounds is one of only four remaining U-boats in the world which Germany bought back for the sweet price of a single Deutsche Mark.
The tall brick tower at the site was actually built in 1936 to remember those lost in WWI. The tall, curved structure was not designed to resemble any single form or item, but was instead meant to simply inspire positive feelings in all those who gaze upon it. After WWII the scope of the monument's remembrance was expanded to include German soldiers who perished in the fighting, but later on the memorial was simply christened to be devoted to all who died in all the World Wars.
My travel arrangement have me flying Emirates Airlines, Perth to Hamburg, from Hamburg airport by bus to Kiel (1.45 hrs), then again by bus to Laboe.  Laboe is a seaside village with plenty of accommodation and I have booked into Hotel Seeterrassen, booked direct in motel room.  Apartments are also available if you prefere.
The Dress of the Day will be smart casual dress for the Ceremony and medals are to be worn at all other occasions.
All Veterans and non-Veterans are welcome.
Regards
Ian Holthouse
WA Section President
0477 160 097
---
For further information please contact:
Australia:   
Mr Ian Holthouse      +61 477 160 097          iholthouse@hotmail.com
Germany:   
LT Bastian Niehage   +49 431 71745 1252    EinsFltl1IntKoop@bundeswehr.org
---

National President's Newsletter
(September 2023)
Please <click> the link above for
an update on the following topics:
Correspondence regarding the King as our National Patron,

Update - The NAA's use of the RAN's Interlectual Property,

Lack of NAA Section in the Northern Territory

Update - NAA Web Site and Email changes,

National Council meeting location,

Annual Membership Subscriptions

DVA Grant for funding of travel,

National Secretaries Position,

White Ensign Magazine costs,

ESORT representation,

Challenge Coins,

NAA Finances.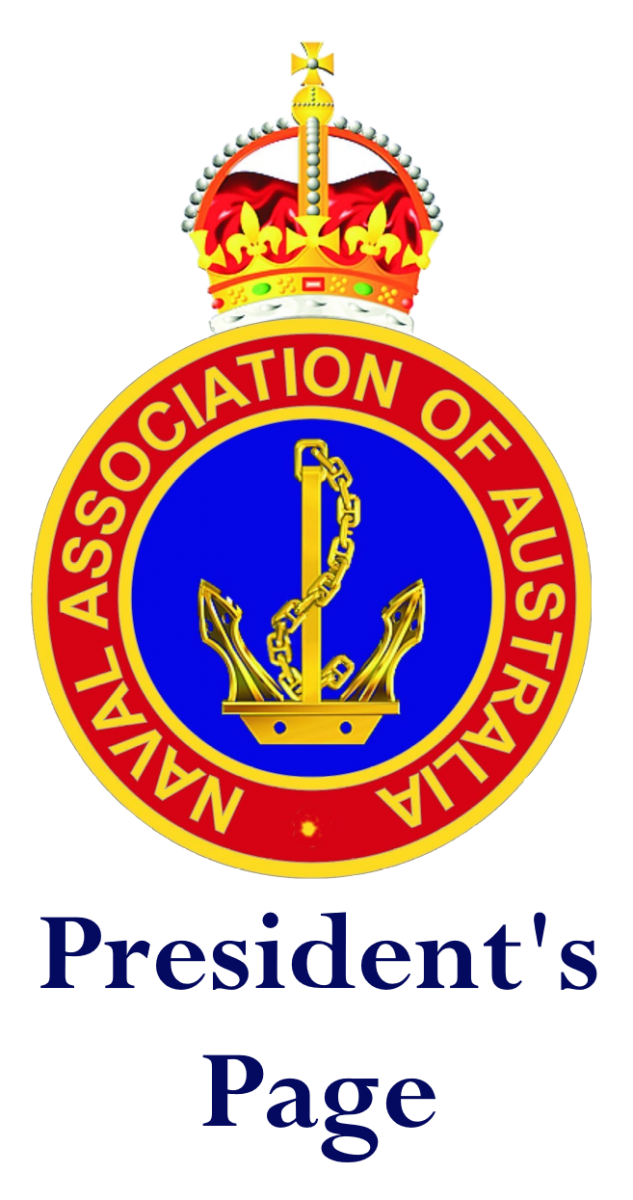 National Edition
Latest Edition - September 2023
(previous editions)   


Click the link below for a list
of must see videos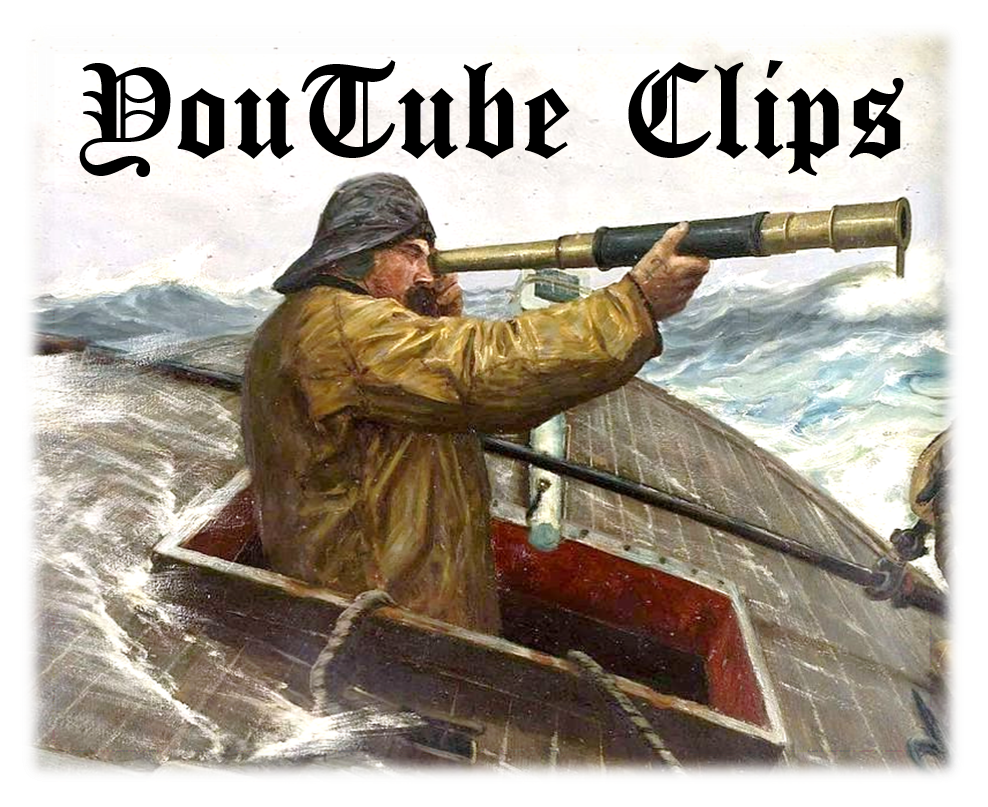 The RAN in Vietnam from a sailors perspective.
Derek Marrable MBE., Jack's Ceremony June 30 2022.
Click the link below for
articles archived from this page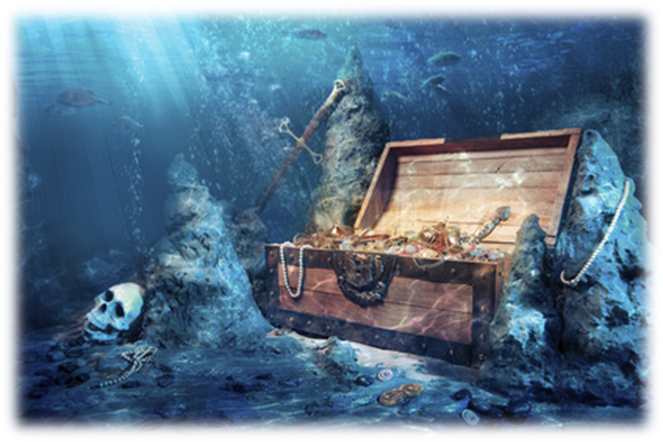 If you would like further info please email general.enquiry@navalassoc.org.au
Webmaster can be contacted at webmaster@navalassoc.org.au
Postal Address
National Secretary
Naval Association of Australia
221 Centenary Ave.
Melton   VIC   3337
Australia