Welcome to Naval Association of Australia
Keep an eye on the Notice Board for important information.
 
Christmas 2020, A Message from the NAA President!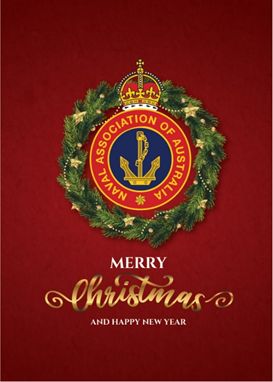 On behalf of the National Executive, I wish you all a very merry and safe Christmas and New Year, and we very much hope that during this time you will all be able to make contact or be with those you hold so dear, your family and friends, those you love and cherish. We have conveyed our festive season well wishes to CN for all serving naval personnel and, Navy have passed on their Christmas and New Year well wishes for our members.
In looking back over all that has come our way this year, it has certainly not been as safe and as rewarding as we would have wished for when we last looked upon a festive season. Tragically some have had to face fire and destruction, injury and loss of life, possessions and livelihood. More anguish came our way when we had to confront the invisible but nonetheless life-threatening COVID-19 and tragically for some, we saw the loss of life. Following on from the effects of a prolonged drought our spirits were lifted with the coming rain but here too we are seeing losses as the heavy falls in some areas, cause floods and coastal storms wreak havoc.
Amongst all that was happening arounds us there have been several highlights for the NAA, particularly during the latter part of the year. We were so very much encouraged when we saw Sections and Sub-Sections bunkering down where necessary or perhaps 'shortening sail' to weather the COVID-19 storms, but through it all we maintained our presence in the wider veteran's and naval communities. We can all be proud of how we continued to provide that which the NAA does so well; to provide 'naval fellowship'. Thank you!
In this very challenging year, we found the means and opportunity to celebrate our Centenary in as meaningful and prominent manner possible. We conducted our NAA Centenary Wreath Laying Service at the Australian War Memorial in the Nation's Capital on Friday, 20 November 2020. There we acknowledged and saluted past and present members of the Navy and all those of our Association. In acknowledging those whose grave is 'the cruel sea', we also spoke of the naval veteran. Those who returned home from their service and who lay at rest in places other than the sea, who bear 'wounds seen and unseen' and, whose 'deeds are known and unknown'. We know there were many other events at a local level in many locations across Australia where members gathered to acknowledge the part, we and our predecessors, have played in the continuation of that noble endeavour borne of the meeting of shipmates in Melbourne in 1920; the pursuit of naval fellowship wherever and however possible.
Another most welcomed event was the award of the VC to Ordinary Seaman Teddy Sheean; there was nothing 'ordinary' about this extraordinary example of bravery by this very young and in-experienced Junior Sailor in HMAS Armidale during WWII. In our own way and very much through the admirable leadership and penmanship of the then NAA NP Graham Savage, and our Secretary Russell Pettis, we saw a letter from our Association forwarded to the Prime Minister detailing our strident commitment in urging the Government to re-assess their earlier decision not to recommend this award. While we can but surmise if and to what extent our actions may have influenced the decision to establish a special committee to review the matter, we can all be justifiably proud that the NAA took the action we did. It was with immense pride that I represented our membership at the first Last Post Ceremony for Teddy Sheean VC at the AWM on 01 Dec 2020. In the company of two Shipmates from the ACT Section (again COVID-19 limits on numbers were at play), we met some of Teddy's Family and Dr Brendon Nelson, the Chairman of the Special Review Committee which recommended the award.
We will shortly see a special issue of the White Ensign Magazine which will feature the first VC for a member of the Navy.  This edition will surely be a 'collector's item' and we express our congratulations to Russell Pettis the WEM Editor, Darren Rush the WEM Graphic Artist, and all those who have contributed to the edition.
Though the NX have not yet had the opportunity to meet face-to-face, we have been busy developing strategies to meet the challenging and changing times at hand; further advice will be provided in due course. We are all looking forward to getting underway again in the New Year, wherein it is our earnest hope we will all have a 'fair wind and a following sea'! Again, our very best wishes for Christmas and the New Year and, our congratulations to you all on the way in which we have celebrated the Centenary of the Naval Association of Australia!

Yours aye,
David Manolas
National President
16 December 2020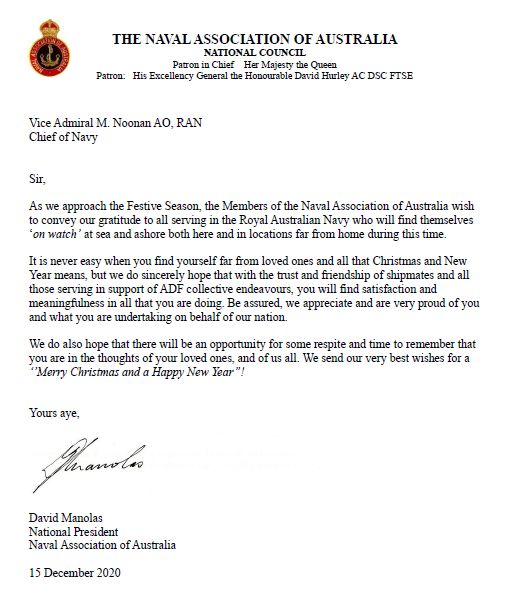 Port Adelaide Sub Section's Home Page
This video was produced for the Centenary Year of the
Naval Association of Australia showcasing Port Adelaide Sub Section's
magnificent Community Club Room and Memorabilia collection.
The Club is in the Port Mall at Port Adelaide in South Australia.
 

Supplementary Edition - Teddy Sheean VC
(previous editions)
We seek to provide an active and rich future that requires determined members.   Being a member sustains the legacy of past service and sacrifice.   The NAA pursue four pillars that underpin our mission:
Care

(welfare) for the diverse and crucial support of Navy and ex-Navy men and women,

Commemoration

by maintaining the legacy of past service and sacrifice.

Navy Cadets

, by assisting youths to become better citizens through support to the ANC.

Camaraderie

, to meet and socialise with like-minded Navy and ex-Navy men and women.
Our aim is to be a dynamic and contemporary organisation supporting the Navy fraternity in a wide range of different ways.   Mateship is at the core of our ethos.
The Naval Association of Australia (NAA) was established in 1920.   The NAA is the only national organisation with the sole purpose of looking after the interests of serving Navy and ex-Navy men and women.   We believe that
Once Navy, Always Navy.
Every member is important to the NAA, the benefit to an individual may not be obvious, however, you will give Voice to Navy in the wider community.   The four pillars underpinning our values point to the significance of membership.   Compensation, rehabilitation and wellbeing entitlements provided to Navy and ex-Navy men and women today is the result of decades of dedicated work by NAA members.
NAA is responsible for the HMAS Sydney II Virtual Memorial Website.
If you would like further info please email general.enquiry@navalassoc.org.au
Webmaster can be contacted at webmaster@navalassoc.org.au
Postal Address
National Secretary
Naval Association of Australia
221 Centenary Ave.
Melton   VIC   3337
Australia