Welcome to Naval Association of Australia
Keep an eye on the Notice Board for important information.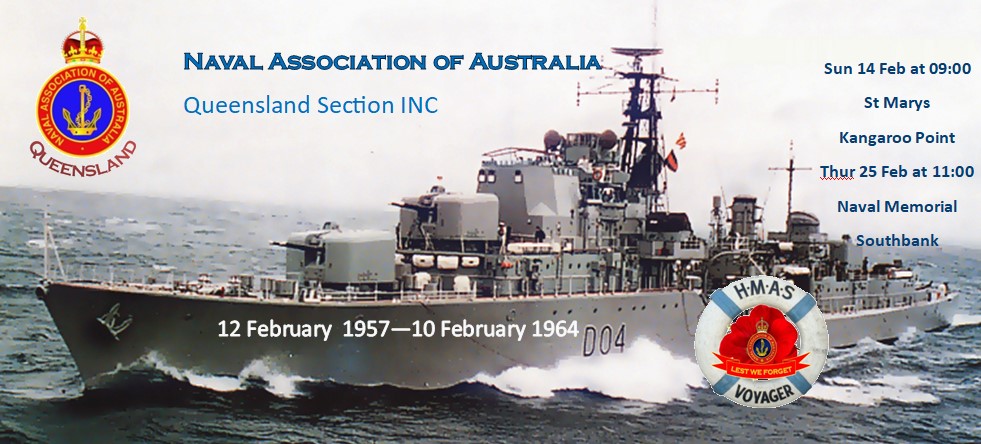 Naval Association of Australia
Queensland Section (inc.)
Naval "Jack's" Memorial - Monthly Commeration Ceremony
South Brisbane Memorial Park, South Brisbane QLD 4101
 
HMAS Voyager (II)  -  10 February 1964 
Date of Service August 25th February 2021
MC: Rudi Bianchi
Person[s] to be Commemorated: 
Chief Petty Officer Jonathan Rogers GM,
Midshipman Kerry Francis Marien, 
Electrical Mechanic (Electronics) First Class William Joseph Condon and their fellow shipmates who paid the supreme sacrifice in the service of their country.
The purpose of the monthly ceremonies is to commemorate the service of Officers and Sailors of the Royal Australian Navy.  Each month the State Executive will select one or two Officers and or Sailors and high light their service.
Hank Koopman, an ex-sailor and a member of the Devonport / Ulverstone Sub Section, performs his moving rendition of The Boy from the Lower Deck in this video as his contribution to the memory of Ordinary Seaman Teddy Sheean VC, the 1st VC awarded to the RAN.
In this video Hank adapts the words from The Boy from the Lower Deck, of George A Lee's poem, to his own musical score to produce this fitting tribute.  Unfortunately due to ill health Hankis unable to perform his music anymore and this appearance could possibly be his last his last major performance.
Bravo Zulu Hank

'All aboard, let go forrard - let go aft,
let us get underway for 2021'!
With the Christmas and New Year festive season astern of us, we can each reflect on those aspects that brought us great joy and that which we wish had been possible. There are still aspects of life we wish were different but there are developments that in themselves, give us cause to be optimistic. So, let us do that and may we all enjoy each other's company as our beloved Association gets underway for 2021.
Firstly, let me say that if I am to fulfil my duties and responsibilities as the National President (NP) of our Association, you will find me seeking advice and assistance from each member of the National Executive (NX) and the members of the National Council (NC), in addressing those issues arising out of our collective or individual activities. I am pleased to report that your National Executive have been busy examining a number of issues which we first need to understand and then determine what changes may be necessary to get back on course. We are all aware that there are issues with the means by which membership applications are received and processed and, NAA banking arrangements. Both matters are very much under active consideration and we are aiming to be able to present the NC with our recommendations within the near future.
We are embarking on a new concept where our three National Vice-Presidents (NVP) will have stewardship of a specific area of responsibility; providing advice and recommendations to the NP and the NX. Details of the respective responsibilities of our NVPs will be provided in due course.
There will be more to share with you shortly but for now, please be assured 'we are back on deck and getting underway'.
Wishing you all the very best for 2021,
Yours aye,
David Manolas
National President
29 January 2021
Port Adelaide Sub Section's Home Page
This video was produced for the Centenary Year of the
Naval Association of Australia showcasing Port Adelaide Sub Section's
magnificent Community Club Room and Memorabilia collection.
The Club is in the Port Mall at Port Adelaide in South Australia.
 

We seek to provide an active and rich future that requires determined members.   Being a member sustains the legacy of past service and sacrifice.   The NAA pursue four pillars that underpin our mission:
Care

(welfare) for the diverse and crucial support of Navy and ex-Navy men and women,

Commemoration

by maintaining the legacy of past service and sacrifice.

Navy Cadets

, by assisting youths to become better citizens through support to the ANC.

Camaraderie

, to meet and socialise with like-minded Navy and ex-Navy men and women.
Our aim is to be a dynamic and contemporary organisation supporting the Navy fraternity in a wide range of different ways.   Mateship is at the core of our ethos.
The Naval Association of Australia (NAA) was established in 1920.   The NAA is the only national organisation with the sole purpose of looking after the interests of serving Navy and ex-Navy men and women.   We believe that
Once Navy, Always Navy.
Every member is important to the NAA, the benefit to an individual may not be obvious, however, you will give Voice to Navy in the wider community.   The four pillars underpinning our values point to the significance of membership.   Compensation, rehabilitation and wellbeing entitlements provided to Navy and ex-Navy men and women today is the result of decades of dedicated work by NAA members.
NAA is responsible for the HMAS Sydney II Virtual Memorial Website.
If you would like further info please email general.enquiry@navalassoc.org.au
Webmaster can be contacted at webmaster@navalassoc.org.au
Postal Address
National Secretary
Naval Association of Australia
221 Centenary Ave.
Melton   VIC   3337
Australia