Notices
Reflections - Naval Association of Australia  *Latest item
VALE: Rear Admiral Andrew John ROBERTSON AO, DSC
National Presidents Report to Sub Sections July 2020
Milestone Commemoration Services
Merchandise for sale *3rd Party Website
Veteran Support System - Briefing on the Draft Inquiry Report
DFRDB Ombudsman's Media Release 11 Dec 2019
DFRDB Inquiry Report December 2019
2020 HMAS Voyager service in Brisbane.
Veteran Suicide Prevention Commissioner
The Remembrance Driveway Council
Badges for sale
---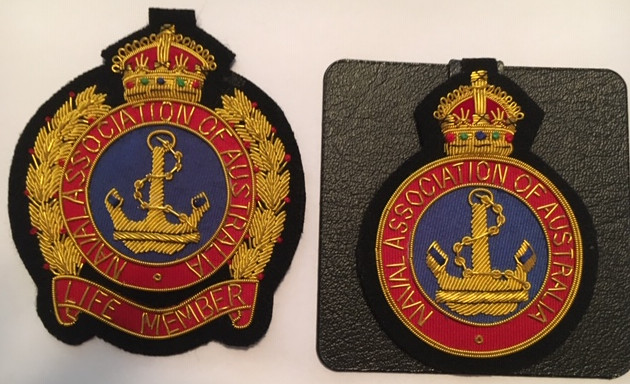 The Victorian Section has a quantity of NAA  bullion laced badges for sale. The price is $22.00 for the member badge with the integrated back slide for the breast pocket of a jacket. The Life member badge is $25.00 and is a sew-on to the pocket of the jacket type. However it could be adapted to the plastic pocket style by the purchaser. Both prices do not include postage.
Inquiries should be directed to the Victorian Section Secretary on email: secretary.egnaa@gmail.com