Western Australia
Perth North - W99
Next Meeting
When:
1st Wednesday of every month except January
Where:
City of Stirling Administration Building.
Southern Wing, City of Stirling Administration Building
20 Cedric Street,
Stirling WA 6021
1st Wednesday of the month, except January.
Visiting NAA members are always welcome
President
Mr Ian Holthouse
Phone 
0477 160 097
Secretary
vacant - contact President
Address
 
Email
pnss.secretary@gmail.com
Phone / Fax
 
Mobile
 
Sub Section Postal Address
PO Box 29, Wembley WA 6913
Welcome to the newest Sub Section in Western Australia
NEWS AND HISTORY OF THE SUB SECTION
How we were formed:-
New Naval Association of Australia Sub-Section, Perth North, Chartered –
At a Ceremony at Kingsley Tavern, the then State President of the NAA, Mal Hughes, presented the Perth North Sub-Section with it's Charter. At the time this was the first new Sub-Section to be chartered in the Perth metropolitan area for many years.
Among the guests attending at the Charter Ceremony  were The Honourable Graham Edwards MP, Federal Member for Cowan and, representing The Honourable Dr Mal Washer MP, Federal Member for Moore,
Mr Luke Simpkin.  From the Royal Australian Navy, Commander Paul Bartlett , Commanding Officer, HMAS Stirling and the local RSL was represented by Milton Kirk, President of the Wanneroo Joondalup RSL.
Naval Cadets from Training Ship Marmion, (LEUT Mike Vasey ANC)  from Hillarys Boat Harbour provided a Flag Party during the Ceremony.
The Perth North Sub-Section currently has a strength of 40 and new members are sought. For further information, contact the Membership Officer Mike Allen on 93092808. The Sub-Section meets on the first Wednesday of each month at the Kingsley Tavern at 1030.
Our picture shows then Graeme 'Woody' Woodford (left) being presented the NAA Flag and presentation of our Charter by Mal Hughes, who was WA State President of the NAA at the time.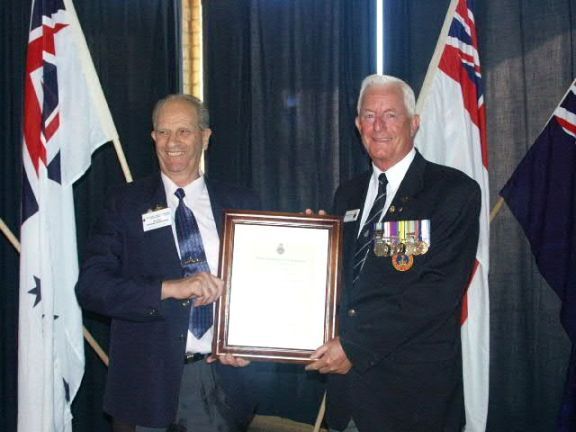 PHOTOGRAPHS OF THE BIG DAY AND LOTS OF OUR CHARTER MEMBERS
Sub Section Information:
Perth North Sub Section formed early in September, 2005.  We decided to hold our monthly meetings on the 1st Wednesday of the month at the Kingsley Tavern, about 12 miles north of Perth, WA starting at 1030.
Wives and partners have a get-together in the lounge of the Tavern whilst we have our meeting, usually takes about an hour. On completion we adjourn to the bar, spin some dits and re-join our ladies for lunch.
The format works well; including the ladies has benefits for us all.
Our first Social BBQ was held  on Saturday 4 February at the home of Shipmate Greg Smith, with some 20 member's and their ladies attending and enjoying our first 'out of meetings' get together.
Please see the photo under.
Our Newsletter is called 'The Dog Watch' and hopefully will be published monthly.
Information kindly supplied by Shipmate Doug Valeriani.