QLD
Section President
Mrs. Helen Yench
Section Secretary
Ms Kaye T. Morgan
Section Treasurer
Mr. Steve Zahra
Section Officers
Please send photos and short stories about events in
your Sub-section to the Facebook Coordinator
Section Contact Details
| | |
| --- | --- |
| Office Hours | Tue & Thur, 0800 – 1200 |
| Phone | 07 3891 3040 |
| Email | admin@navalassocqld.org.au |
| Address | PO Box 8301 Woolloongabba QLD 4102 |
Congratulations to the former State President Shipmate Raymond Thomas SANDFORD,
who was awarded an OAM in the King's Birthday 2023 Honours List For service to veterans, and their families.
BZ to Ray, and let's not forget his mainstay, Sandy.
 
Also in the awards were
Mrs Jennifer Dawn GREGORY, National President of the War Widows Association
New Farm QLD 4005
For service to veterans and their families.
Mr Russell William PETTIS
For significant service to veterans and their families. The Association's former National Secretary and White Ensign Editor on the award of an AM.
Congratulations to Russell, Jennifer, and Ray for their work on behalf of the Association and Veterans.
A Veteran's Handbook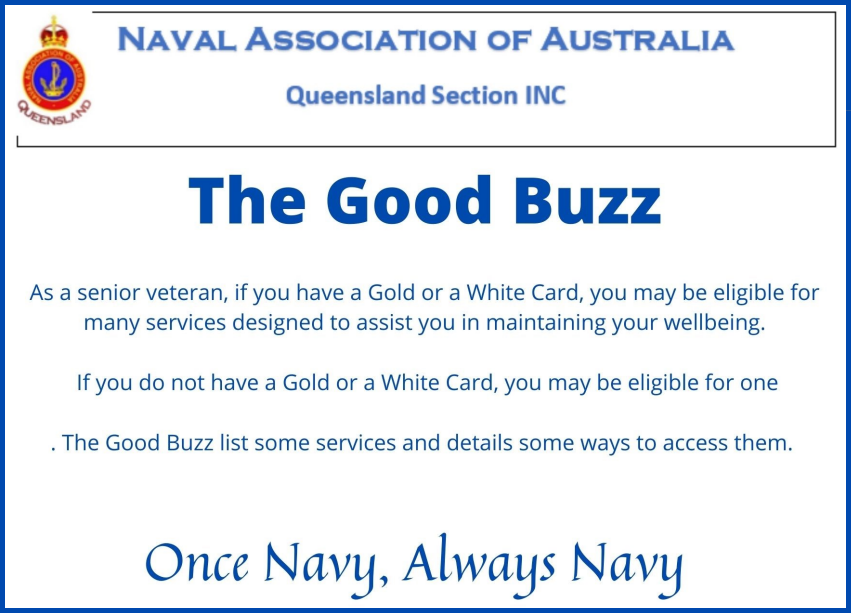 Queensland Monthly Ceremonies 2023
Naval Memorial
South Brisbane Memorial Park
Southbank Brisbane
MONTH 

DATE 

Day 

FOCUS 

HONOURING 

SPEAKERS 

February 

9 

Thursday 

HMAS Voyager

Lost Crew 

 

February 

23 

Thursday 

RAN – Navy Week

Royal Australian Navy 

HMAS Moreton: LCDR Braun  TBC

March 

1 

Wednesday 

HMAS Perth

Lost Crew 

Organised by Perth Assoc

April 

27 

Thursday 

Navy Nashos

All those who served  

Alex Garlin

May 

25 

Thursday 

Vietnam Ships

Lost Crew 

 

June 

29 

Thursday 

Ships & Exhibits of Qld Maritime Museum

Diamantina

Forceful

Australia 

Lucinda 

Museum – Colin Jones

July 

27 

Thursday 

Coastwatchers

JFK 

TBC

August 

31 

Thursday 

Hospital Ships

Centaur 

TBC

September 

28 

Thursday 

Tobruk Ferries

HMAS Parramatta (II) 

TBC

October 

26 

Thursday 

Battle of Leyte Gulf

HMAS Australia 

Shropshire 

Arunta 

Warramunga 

Kanimbla 

Manoora 

Westralia 

Gascoyne 

HDML 1074 

Bishop Dale 

Merkur 

Poyang 

Yunnan 

TBC

November 

30 

Thursday 

Sydney 2

All Sydney sailors 

TBC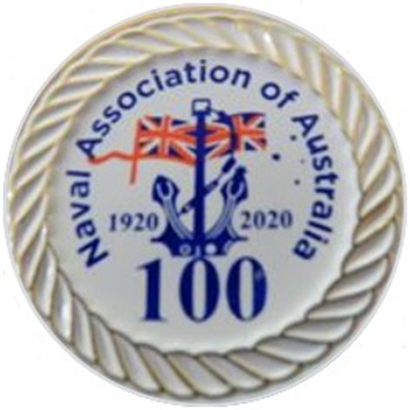 Section Documents
Monthly Ceremony - Naval "Jack's" Memorial 

South Brisbane Memorial Park

Southbank

11:00 Last Thursday of each month (except Dec & Jan)

followed by Lunch at the Ship Inn