Care: Supporting Navy
Care:  supporting Navy and ex-Navy men and women.
One of the Association's four pillars is to provide all possible assistance to our members:  Navy and ex-Navy men and women and their dependents.  We are here to help wherever practical.
If urgent, PLEASE DO NOT HESITATE ring Beyond Blue 1300 224 636 now. You may also go to their website, if time permits www.beyondblue.org.au
Veterans and Veterans Families Counselling Service is a 24 hour support service, ring 1800 011 046.   You can view the VVCS WEBSITE – click here
If in financial crisis, ring the Bravery Trust 1300 652 103.
Then there is the ADF support service – All hours at 1800 628 036.
Or contact Lifeline by phoning 13 11 14, look at www.lifeline.org.au
We aim to provide support by assisting to:
put you and/or your family in contact with the right service provider
assist with compensation claims where it is service related, and
provide informal advice on matters relating to transition out of Navy.
What is in place:
We have a small number of Advocates established into a national network of Military Compensation Officers and Welfare Officers.

Each of these Officers is appropriately qualified through attendance at approved training / development programs.

All accredited Officers act on behalf of the Naval Association and offer their services free of charge.

Where appropriate you will be referred to government agencies, other Ex-Service organisations or community-based organisations for assistance

.

Shipmates also visit members at their home, in hospital or nursing homes (where practical).
If you wish to discuss your needs with one of our Advocates please contact one of the following Care Co-ordinators at your Home Port:
: 
You can always contact the Department of Veterans' Affairs by ringing:
133 254 (Metropolitan Callers), or 1800 555 254 (Regional Callers)

A DVA Handy Billy for Veterans.
The Queensland Section has gone to great lengths to produce this Handy Billy containing a wealth of information outlining Gold and White Card holders eligability for available service that will assist these card holders to maintain and possibly improve their current standard of wellbeing.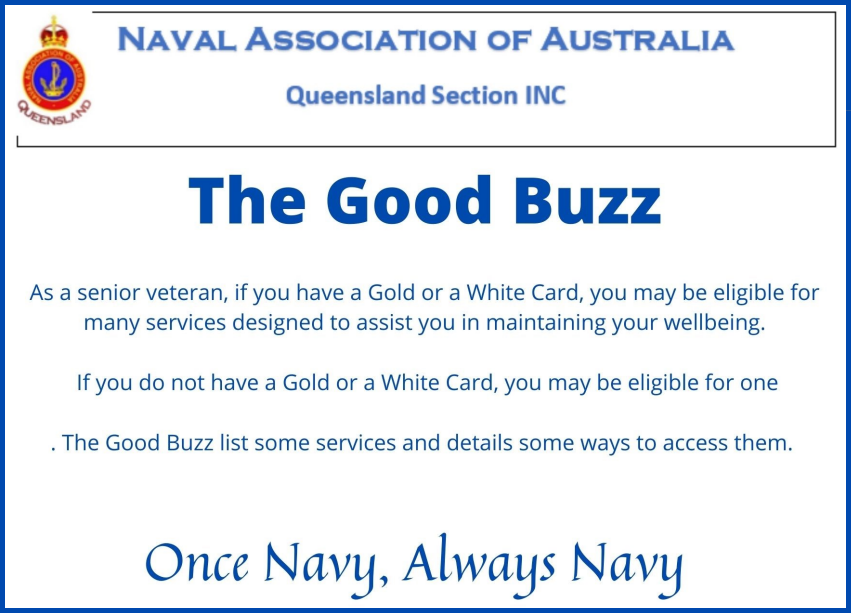 The best thing to come out of QLD
since the 2022 State of Origin Team